subscribe
Price increases are everywhere, everything from big-ticket items like real estate and vehicle purchases down to the everyday essentials of food and household goods at your local grocery store. We all know this, and honestly, rehashing the same facts about inflation in a video would be a waste of everyone's time, so instead, let's cover a few lesser-known reasons why you, as a business owner, must increase your prices if you want to stay in business and expand. Using these concepts can bring millions of additional dollars into your business each year—all this and more in today's video.

Today's video will be a little awkward for me because I will be talking about price increases. Why, you ask? Well, I know a lot of my customers watch these videos. So, if you are one of my customers and recently saw a price increase, here are the reasons why.

Either way, a customer of mine or not, applying this same concept to your business will allow you to thrive and, in return, provide you the resources to give your customers an even better product.

As many of you know, one of my businesses is AutoCorner; we provide turnkey websites for independent used car dealerships, both under our brand AutoCorner and under a white-labeled product through our various partners such as CARFAX or ComSoft. When you sign up with the CARFAX Advantage Dealer program, you are entitled to a free website for your dealership. While it is branded as a CARFAX product, we provide the technology in the background that runs the service.

AutoCorner was initially started by my business partner in 2000, and he kept it as a side project of his for almost a decade. When I partnered up with him in 2009, we officially formed the company and began offering our services full-time for the incredibly low price of $299 per year. We quickly rose in market share and became the third-largest provider in the nation, providing a quality product at a fantastic price.

Over the years, we slowly increased our prices for new customer signups, first going to $499 per year, then $699, $899, now finally, we are at $999 per year for new signups. But we left our old customers grandfathered in on their old prices. We felt it was a thank you to the customers for being with us from the beginning, and we still have many hundreds of dealers that have been with us since 2009 on these old prices. Plus, of course, the thousands of dealers that have signed up throughout the years after the initial 2009 launch.

Now in 2021, as the country is slowly trying to drag itself out of the pandemic and forced shutdowns, we see prices everywhere have skyrocketed. This includes our costs as well, and we needed to look hard at the numbers.

First, we offered our $299 customers to increase their price to $499 voluntarily. We provided them some additional bundled services as a value add as an incentive. These were all high-margin and low-cost services to us, so the increase to our Cost of Goods Sold was so negatable it wasn't even worth calculating. To our surprise, about 10% of the customers on the old price $299 point elected this upgrade. This immediately added a few hundred thousand dollars to the bottom line each year.

After speaking with some of them, here is what I learned.
They loved our service and didn't mind a slight price increase if it meant we would reinvest that money into better products and services, that in return, would make them more money and save them time.
The slight increase in cost for our product was cheaper than the time and costs associated with moving to another website provider.


With these two valuable lessons, we looked at the other 90% of customers on the old pricing plans and decided to implement a gradual realignment, bringing these customers to our current price points, so all of our customers were paying current pricing.

We were still cautious about implementing these with care. Nobody wants to see their $299 price go to $999 overnight. So, we needed a strategy.

Using an inflation calculator on US Inflation Calculator dot com, I calculated the annual price increases if we kept up with inflation each year. So, for example, a dealer signing up in 2009 at $299 per year should have increased to $303.90 in 2010 purely based upon inflation. $313.50 in 2011, $319.98 in 2012, and so on each year until today; in 2021, their price should have been $382.31 if we kept up with inflation.

Adding up these prices, if we increased their prices each year, they would have paid a total of $4,346.73 over 12 years, but since we kept their prices the same, they only paid $3,887. Which is a difference of $459.73 that we undercharged. Or looking at it another way, we lost $459.73 in actual value over those 12 years.

Remember, inflation means $1 today has less spending power or less value than $1 in the past. With the cumulative rate of inflation over these 12 years, we lost 27.9%, so each $1.00 in 2009 is worth approximately 72 cents today.

So, we began to implement our price increases over a multi-year term keeping all of this in mind. All remaining $299 customers were brought up to $499, all $499 customers to $699, etc.

These gradual price increases will generate millions in additional reoccurring revenues, but remember, for many of these dealers, we are -$460, so even a $200 increase only brings us up about 50%. We are still in the red with that customer. But we decided we would prefer to slowly implement the price increase rather than shock everyone with significant increases on day one.

Of course, as to be expected, some customers did have issues with the price increases. Most, after a simple explanation, were accepting of the price increase, but some were not. As of my last check, we lost about five customers that refused the price increase and left, and while any customer loss is bad, in this case, that relativity small amount of customer attrition did not impact the bottom line—the increases in revenues generated from the others more than covered those losses.

A few customers asked for a payment option to break the increase into a few payments, and we happily worked with any that asked, splitting them over a few monthly payments to help them out.

With this increase in revenue, we are hiring additional staff to provide better support for our customers and investing heavily in our soon-to-be-released major overhaul of the entire AutoCorner system, which will add huge performance and feature boosts for our customers.

In summary, as a business owner, you must increase your prices. The main reason is that you need to keep up with inflation and failure to do so, and you will slowly bleed your company into bankruptcy. Second, if you provide a quality product, your customers will stay with you. The simple fact, it will cost them more time, money, and aggravation to leave you and risk switching to an inferior product. Your customers know this and are willing to spend a few extra dollars if they are happy with your product or service.

BUT and this is important. Do not go crazy. Let's say you own a gas station, and you sell soda for $2.99; you cannot bump the price to $9.99 and expect someone to still buy from you. There are market forces at play and just common sense. You could increase it to $3.29, and most would not notice or care, but more than tripling the cost of a soda will just piss off customers.

I hope this information helped you out. What type of products or services do you offer? Have you raised your prices? Why or why not? Share this with us in the comments section below.

Don't forget to check out www.OpenFor.Business and register your business today. As you know, this is my small business awareness campaign, along with Aubrey Janik, Jamel Gibbs, Minority Mindset, Investment Joy, Rod Squad, Kenny Keller, Kristen Ottea, and Mark Moss; we will fly around the country in a helicopter landing at select small businesses nationwide. Do you want me to land the helicopter at your office or feature you on the program? Go to the website and register your business now. These spots are very limited

I am so excited to announce the support from AutoCorner, Namecheap, BestBuy, ZipRecruiter, Dun & Bradstreet, Constant Contact, and Unbanked. Without their support, this nationwide small business helicopter tour would not be possible!

view on YouTube
Follow Me On...
Steven creates video interviews with interesting people with extraordinary stories from various walks of life, sharing their successes and failures.

Full-length interviews and shorts are available on YouTube, with behind-the-scenes content and photos on Instagram and Facebook.
Keep Up to Date!
Subscribe to Steven's email list to be notified when new content is released!
🚁🚁 Helicopters 🚁🚁
Depending on logistics, I usually fly one of these helicopters while filming content.
Bell 206L4
For longer, multi-day, or multi-state trips, I usually fly a Bell 206L4 helicopter which seats two pilots in front and five passengers in the back.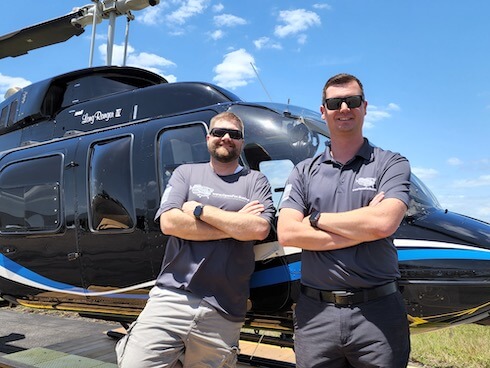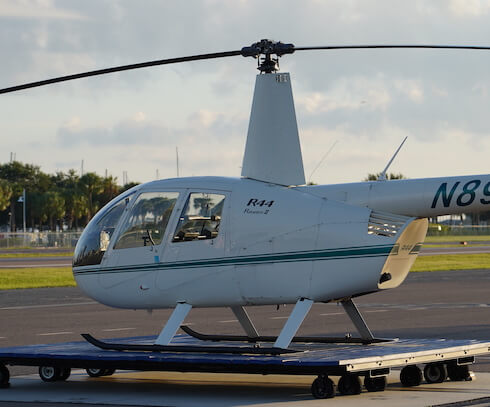 R44 Raven II
For shorter, single-day, local 'Tampa Bay Area' videos, I usually fly a smaller R44 Raven II helicopter, which seats two pilots in the front, and two passengers in the back.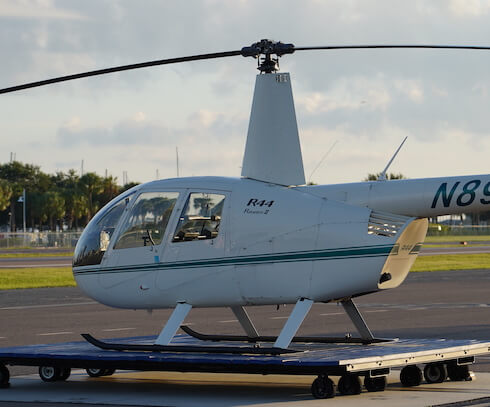 Get in touch
Have a suggestion for an interview or video?
Corporate address

The Carlson Organization, Inc.

18 2nd Street
Luray, VA 22835

Phone number

+1 (540) 742-7001
Join our community on
Discord
Join in the discussion and share your insights with the community.
Join Now it's free