subscribe
YouTube is fantastic because anyone can start a channel with nothing more than a cell phone. However, if you want your videos to be remarkable and grab attention, you will have to put in the extra effort to produce high-quality content. This goes beyond simply pressing record. You'll need the appropriate tools and know-how to be a successful YouTube production studio. It will not come without a price, but it will pay for itself with increased viewership.
Here is a behind-the-scenes tour of my YouTube production studio set, showing what equipment I use and how it all works together.
🎥 Camera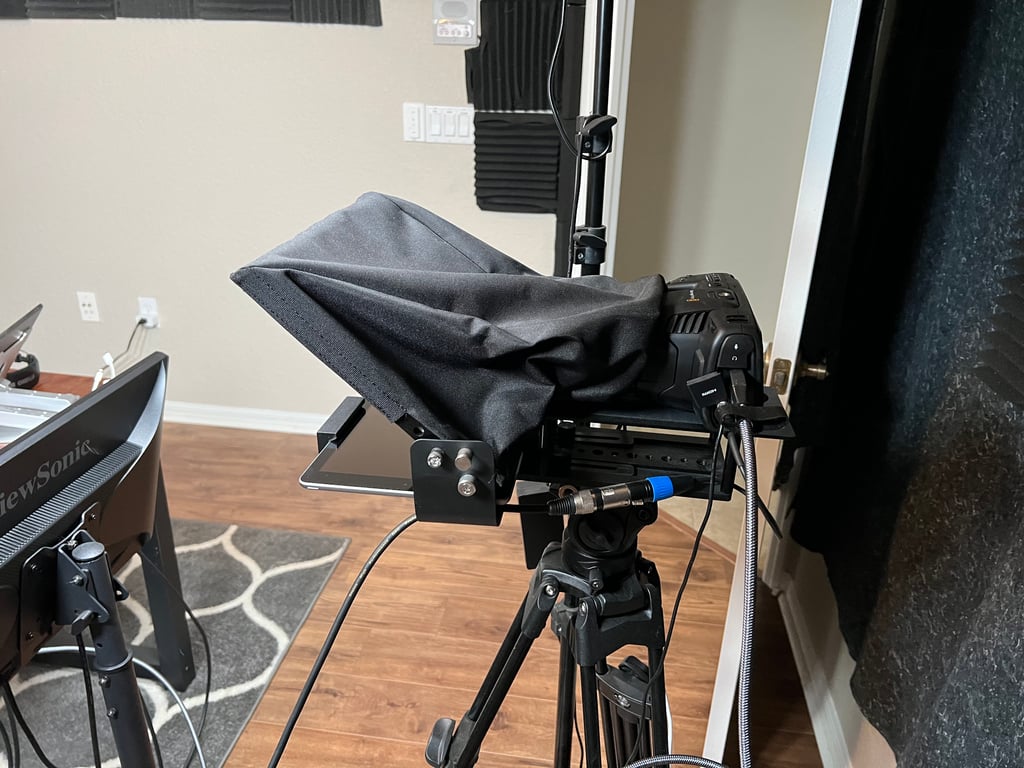 I use a Blackmagic Design Pocket Cinema Camera 6K with a Canon EFS 17-55mm f/2.8 lens for my primary studio camera. The studio microphone (below) that comes from the audio pre-amp feeds directly into this camera using a Mini XLR Male to XLR Female Adapter Cable, 3-pin Mini XLR Male to XLR Female Adapter Cable, for BMPCC. This was done for an essential reason that is not obvious if you are not a video geek, and until I figured it out was a real pain.
Let's step back for a second and explain the setup. The video feed comes from the camera through an HDMI cable into my ATEM Switcher (below). This switcher records all my video sources directly to an attached SSH drive. It IS POSSIBLE to plug the audio from my microphone directly into the ATEM Switcher; however, here is the rub. HDMI has a slight delay of a few milliseconds; this will cause your audio from the microphone to be a few milliseconds ahead of the video. There are software fixes for this, but they are not worth explaining now. In short, if you put the microphone into the Blackmagic camera, it will combine the audio & the video in real-time and send it out without any mismatch. Trust me; life is much easier this way!
In front of this camera is my teleprompter setup. I use one from Glide Gear, the model I have is the older style, and Amazon lists a newer and slightly improved version. Either way, it functions the same. There is a holder in the front where you place an iPad (any iPad will do, I used an old one lying around). Any text on the iPad's screen will relect onto the included mirror, directly in front of your camera lens.
You can also use (gulp . . why would you?!?! but whatever) an Android tablet. The teleprompter kit doesn't care. No matter your OS, you will need to find teleprompter software. I use Teleprompter Premium for iOS from Teleprompter Apps Ltd.
💡Lights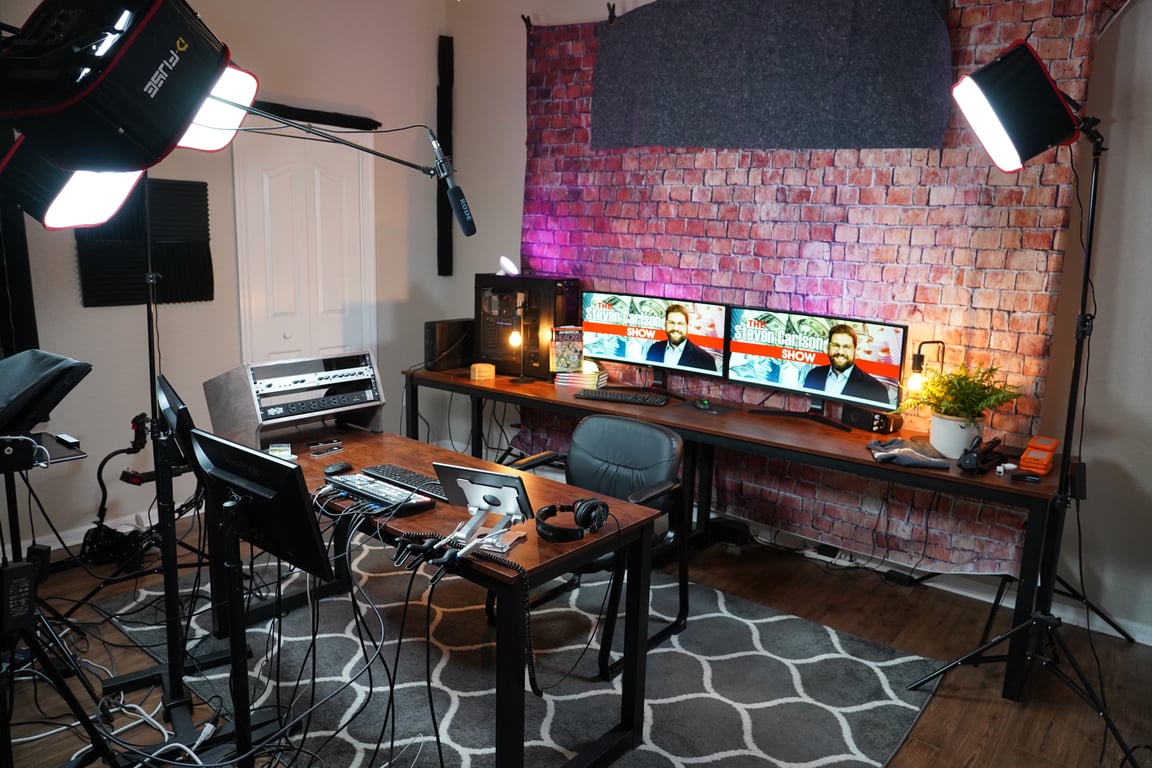 The lights I use in the studio are split into two groups: the Hue lights used to add color to the set and LED stage lights.
Let's start with the Hue Lights, and I'll presume you already have a Hue Smart Bridge setup; if not, you will need this. In my case, I already have Hue lights throughout my house, and the studio is just another room with scenes created specifically for shooting video.
First, on the wall, I have a Philips Hue Smart Dimmer Switch Remote with the on/off button configured to control my scene "Studio" in the Hue app. I do not use the dim buttons at all in this setup.
The purple light on top of the PC tower and the yellow light behind the computer tower are now discontinued, however, there is a replacement model for it called the Hue Go White and Color Portable Dimmable LED Smart Light Table Lamp.
The antique light bulbs visible in the shot are Philips Hue White Dimmable Filament A19 Smart Edison Vintage LED bulbs. In the video, I mentioned the lamp was from Target, but I was mistaken; the fake potted plant was from Target. The lamps are from Amazon called the Edison Desk Lamp, Industrial Bedside Lamp Set. Just note that I didn't use the light bulbs that came with the lamp; instead, opting for the Hue Smart Edison bulbs.
Finally, the purple lights behind the computer motors illuminating behind and above the monitors are the Hue Play White & Color Smart Light.
One thing to note, all of the Hue lights that I refer to as "purple" are multi-color LED bulbs; you can set them to whatever color you want in the Hue app. You are not limited to the colors I chose.
Now let's move on to the studio lights. The big bright white LED studio lights you see in the shot are Neewer Professional Metal Bi-Color LED Video Lights; they can be adjusted to match the color temperature you need in your studio. These LED panels are placed into a Kamerar Dfuse Collapsible Softbox for Aputure Amaran 528/672 LED Light Panels to help defuse and soften the light. The kits I purchased came with floor stand tripods, and I opted to add the WELLMAKING U-Shape Camera Flash 180°Swivel Mount Bracket so I could aim the light in any direction.
The hair (rear) light behind me is plugged into a Philips Hue 552349 Smart Plug, so it turns on when I turn on the other Hue lights. The three LEDs in the front of the set are plugged into a standard wall switch-activated receptacle.
🎤 Microphone/Audio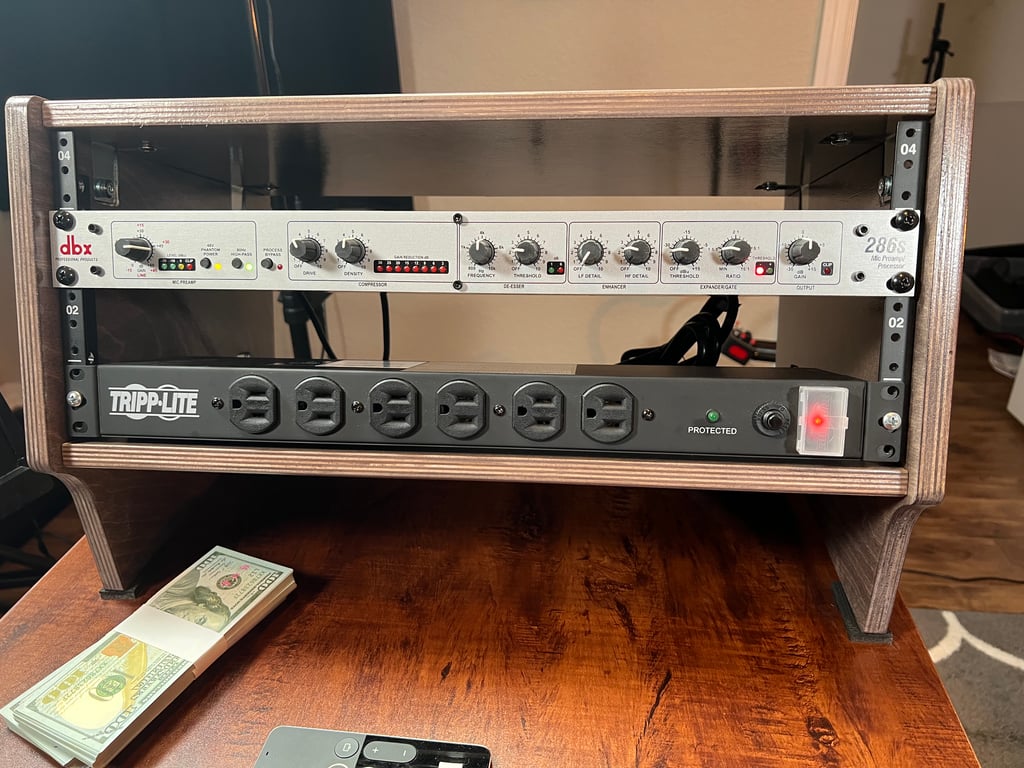 My audio recording starts with a Rode NTG-2 Multi-Powered Shotgun Microphone mounted into an Eggsnow Microphone Shock Mount Clip Universal Mic Holder. A shock mount like this helps dampen vibrations from being picked up by the microphone.
The microphone and shock mount are suspended directly overhead and outside the camera shot using a LyxPro Professional Microphone Stand Heavy Duty 90" Studio Overhead Boom Stand.
The microphone is connected via a standard XLR cable, nothing fancy, and is plugged into the input jack of the dbx 286s Microphone Preamp & Channel Strip Processor. The purpose of the dbx is to provide phantom power to the microphone, amplify the incoming audio, and apply some basic gates/filters to reduce background noise, breath sounds, and "P pops" in voice recordings. Further audio processing during post-production in Final Cut Pro.
The audio output from the dbx is connected directly to the Blackmagic camera (see above).
The dbx receives its power through a Tripp Lite 14 Outlet Network-Grade Rackmount PDU, 15A Surge Protected Power Strip. This isolates and protects the dbx and Rode microphone from power surges. It does not provide battery backup; see the section below for that topic.
The Tripp Lite and dbx are mounted into a Sound Town 4U Angled Desktop Turret Studio Rack with Birch Plywood. Sadly it looks like the exact color I have is out of stock, but they have similar. I chose the 4U size to provide additional airflow between the devices and allow for expansion if needed in the future. Technically you would only need a 2U for these two devices. I added foam pads to the bottom of the rack so it wouldn't slide around on the table.
🗣️ Wall Sound Treatment and Backdrop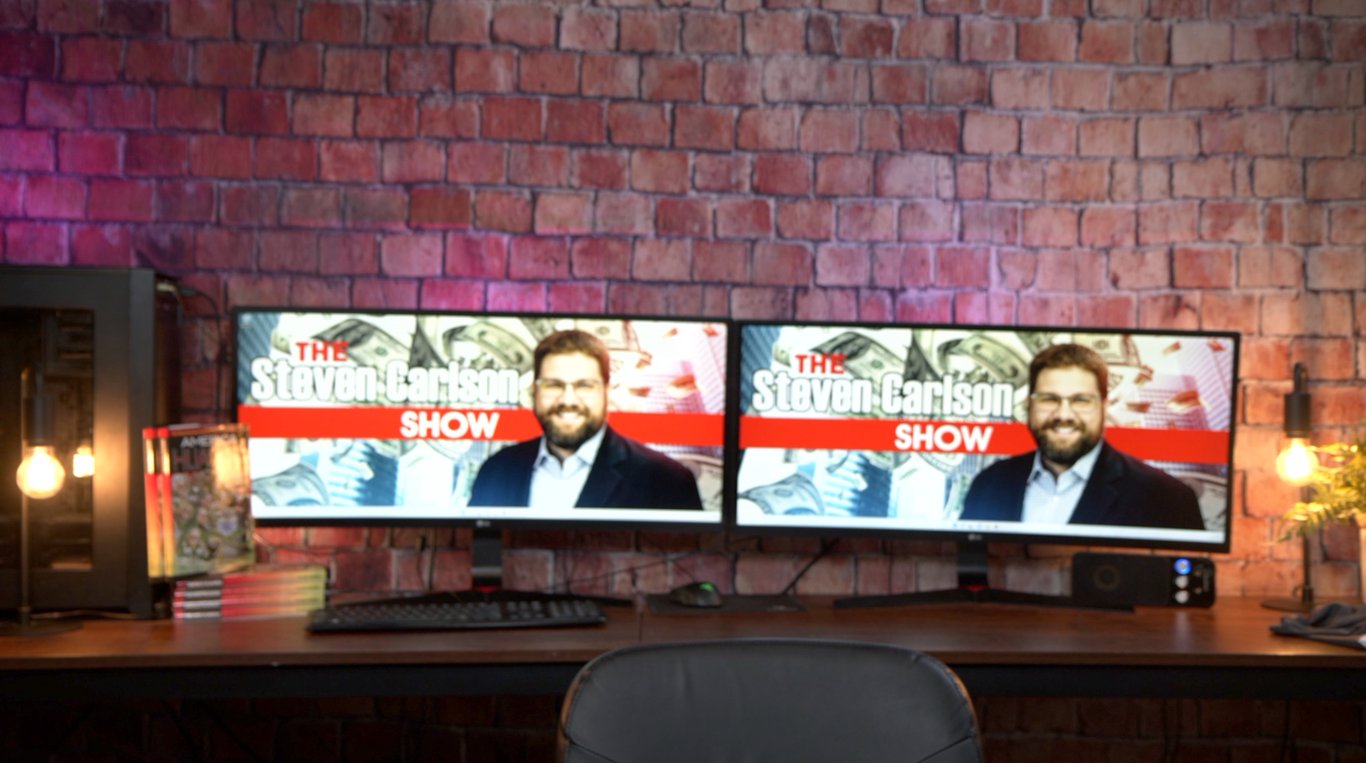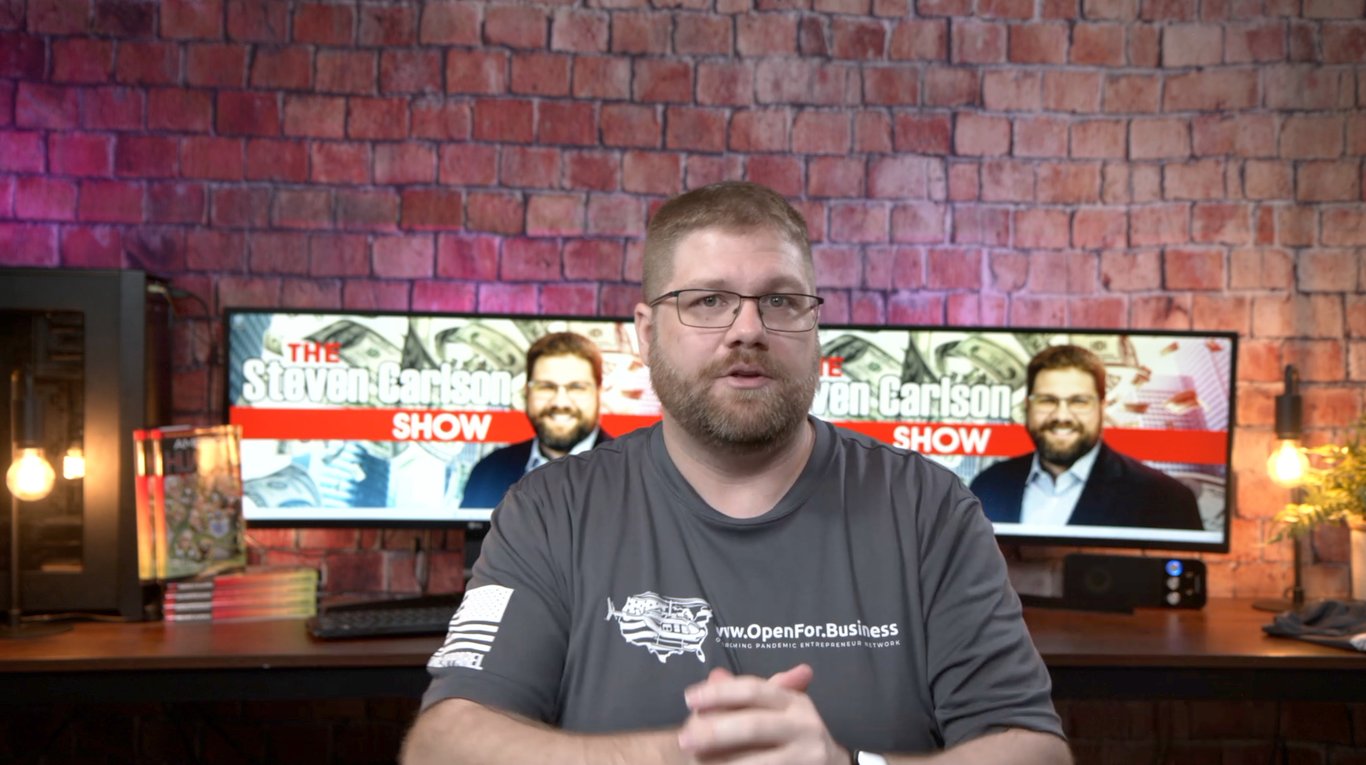 The backdrop behind the computer motors is an LFEEY 10x8ft Vintage Red Brick Wall Photo Backdrop. The kit comes with a stand to hang it from, which is pretty flimsy, but works. I purchased a few extra plastic clips (Heavy Duty Muslin Clamps 4 1/2 inch 6 Pack), so I could apply better stretch to the backdrop. The biggest aggravation I had was lining it up so the bricks were "close to level" and didn't look too horrible in the video. I noticed playing with how light (especially the Hue lights) bounce off the brick can help cover up the "fake" look of the backdrop.

On multiple occasions when people have come and seen my studio in person, they were genuinely surprised the bricks are a fake backdrop. I was shocked as it is obviously fake to me when I look at it, but maybe that is because I know the truth. Someone looking at it from a carefully framed camera shot doesn't always notice.
If you look closely, there is a bit of a sag in the backdrop in the center. If I were to rebuild the studio, I would put a more robust rail to hang the backdrop from. Either way, your camera's focal point also helps with your backdrop's believability. In this case, I am focused, and the background is slightly blurred. This takes some trial and error to get the depth of what you want.
Also, the monitors refuse to stay level with each other. That is just my OCD kicking in, it is more noticeable without me in the shot, but when I sit there, it is partially obscured. There are plenty of dual-monitor VESA mounts available on the market, and I would recommend going that route if you are going to place two monitors behind you.
I used a combination of foam panels and thick moving blankets on the acoustic treatment for the walls. For the foam panels, I used Fstop Labs Acoustic Panels, 2" X 12" X 12" on the walls, and JBER Column Acoustic Wedge Studio Foam Corner Block in the corners.
When the foam panels come in the mail, they are vacuum sealed and squished in an unimaginably small package. You will need to open them and let them sit for at least a full day, preferably a few days, to expand to their full size before mounting them onto the wall. Also, THEY SMELL HORRIBLE in the beginning; you might want to let them sit in the garage or a well-ventilated room for a few days to air out. Yum . . . the smell of carcinogens.
For the moving blankets on the wall, I used Uboxes Moving Blankets - Textile Skins 54x72" they worked very well. But honestly, any thick blanket will do. I had these laying around after moving.


🎛️ Controls
The main switcher I use is a Blackmagic Design ATEM Mini Extreme ISO Switcher, which provides 8 HDMI inputs, two separate HDMI outputs, 2 USB ports, and a headphone connection. There are also four chroma keyers, six picture-in-picture DVEs, two media players, and a multiview with up to 16 views. This provides me with all of the input sources I need to record my videos, and technically far more than I need. The only downside is the video recorded to SSD is 1080p HD only, so even with my 6k camera, I am only recording in HD. This really sucks! In Final Cut Pro I render my videos out in 4k, but you never truly regain the beauty of what my camera can produce. Blackmagic does have a 4k option in their higher-end line, but that starts at almost $3,000 for the switcher, and looses some of the features in the ATEM mini . . . so . . . it is what it is.
In addition to providing me with my multi-view preview monitor and direct-to SSD recording, one nice feature is that it can feed your output through USB directly into a computer and function as a webcam. This feature is HUGE! It allows me to conduct Skype or Zoom interviews with my studio cameras, mics, and other video sources.
To ensure maximum compatibility, all ATEM Mini models feature USB that operates as a simple webcam source. That means you can plug into a computer and get working with any video software! The software is tricked into thinking the ATEM Mini is a common webcam, but it's really a live production switcher. That guarantees full compatibility with any video software and in full resolution 1080HD quality. Choose any software you like, such as Zoom, Microsoft Teams or Skype for a new way to do presentations with a professional multi camera broadcast quality style! The ATEM Mini webcam output also works with streaming software such as Open Broadcaster, XSplit Broadcaster and more!
I control focus and color profiles of my Blackmagic camera using an iPad sitting on a KABCON Quality Tablet Stand. The video shows me using these controls.
🖥️ Preview Monitors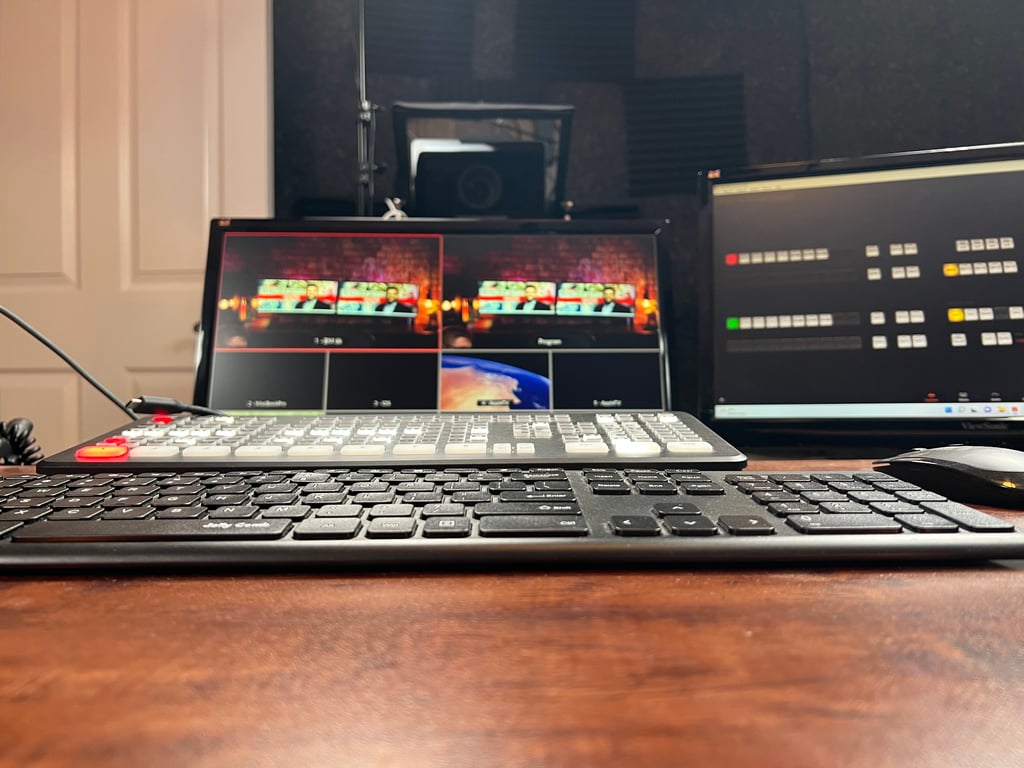 Directly in front of me, outside of the view of the camera angle, are two 22-inch ViewSonic VA2246MH monitors. As you saw in the video, the one to the right is plugged into the PC behind me and runs the ATEM desktop software. The second one, on the left side, is plugged into the ATEM itself via HDMI and functions as a multi-view setup.
Honestly, any cheap, small monitors will work as long as you have an HDMI input.
The monitors are mounted on VIVO TV Floor Stands. The key is a short and sturdy stand to hold your monitors. Also, very important to have adjustability both up and down, but also tilt so you can have the monitors lower than your desk, slightly aimed up.
With this setup, I can see my video sources, audio levels, and a preview of what I am currently recording.
I have considered adding a third monitor to my left to show a secondary teleprompter for when I am looking at my MacBook Pro (not shown in my video or photos, but when used, it sits directly in front of the iPad to my left).
⚡Battery Backup
Because I live in the lightning capital of the world ⛈️, aka the land of excessive humidity, aka Florida, power outages from storms and massive power surges are a daily occurrence in the summer.
With this in mind, I have four APC UPS 1500VA UPS Battery Backup and Surge Protector, BX1500M, with AVR units in this room. In fact, everything (including the audio equipment, even with its own surge protector) is plugged into an APC unit.
VERY IMPORTANT! If you get a different battery backup, MAKE SURE it has Automatic Voltage Regulation (AVR). In simple terms, it means the battery in the backup device continuously powers your devices. This provides clean and continuous power from the battery, free of any voltage spikes or dips. This also means any massive power surge that comes in will fry the APC unit and NOT pass into your sensitive electronics. Most (cheap) battery backups work on a "switch" basis, where your devices receive pass-through power directly from the receptacle; if power stops (power outage), the battery backup "switches" you to battery power. This usually is only a few milliseconds, but these few ms of time will result in reduced power sent to your electronics, and some are very sensitive to voltage dips or spikes.

view on YouTube
Follow Me On...
Steven creates video interviews with interesting people with extraordinary stories from various walks of life, sharing their successes and failures.

Full-length interviews and shorts are available on YouTube, with behind-the-scenes content and photos on Instagram and Facebook.
Keep Up to Date!
Subscribe to Steven's email list to be notified when new content is released!
🚁🚁 Helicopters 🚁🚁
Depending on logistics, I usually fly one of these helicopters while filming content.
Bell 206L4
For longer, multi-day, or multi-state trips, I usually fly a Bell 206L4 helicopter which seats two pilots in front and five passengers in the back.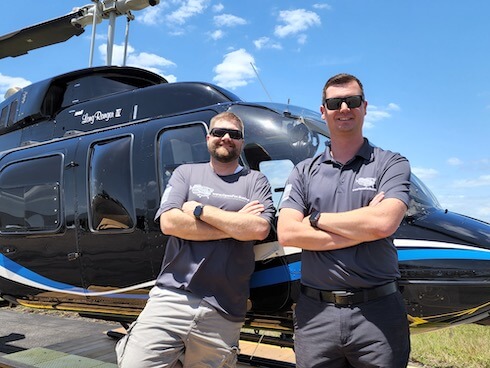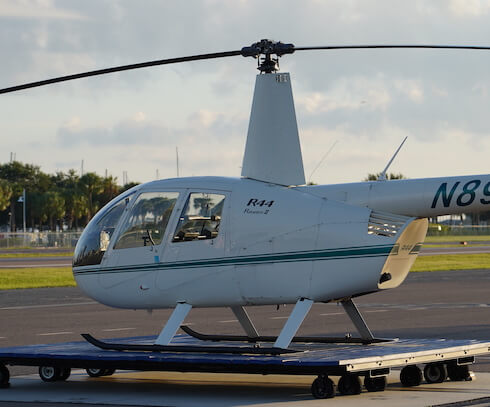 R44 Raven II
For shorter, single-day, local 'Tampa Bay Area' videos, I usually fly a smaller R44 Raven II helicopter, which seats two pilots in the front, and two passengers in the back.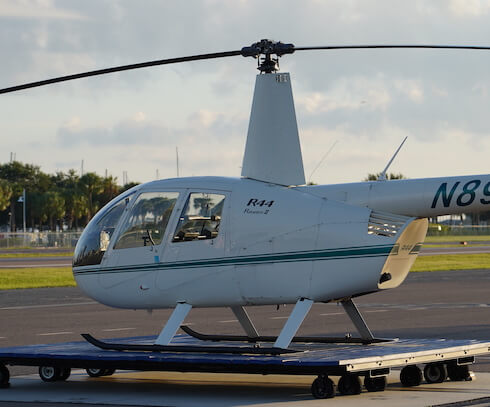 Get in touch
Have a suggestion for an interview or video?
Corporate address

The Carlson Organization, Inc.

18 2nd Street
Luray, VA 22835

Phone number

+1 (540) 742-7001
Join our community on
Discord
Join in the discussion and share your insights with the community.
Join Now it's free