subscribe
🇺🇸 Buy American Made – Holiday Shopping Black Friday

We all know the SBA EIDL program sucked for many small businesses, so for those of you still needing to raise capital for your business, what options are there? All this and more in today's video.

While researching for this video, almost every resource I came up with said stupid things like, "get a business grant" or "bootstrap with your own money."

Umm, well, first off, most grants are a waste of time. Sure, some are great, and I've featured them in previous videos; just search Steven Carlson Show business grants on YouTube to see a list. But honestly, we all know, a vast majority of them are useless. So, we will skip those in today's video.

The second tip I keep seeing repeatedly is to bootstrap your business, this is a great idea, but most of the videos just tell you to use your own money or borrow from friends and family. That is great and all if you have money, what if you have nothing?

The honest answer is sweat equity and to start your business smaller. Obviously, this depends on the nature of the business you are trying to start, but I would venture to say the vast majority of businesses do not need an expensive office rent filled with furniture and dozens of staff. Most can be you, your laptop, and a kitchen table emailing suppliers, customers and fulfilling orders in the evening.

But don't just take my word for it.

How to Raise Capital For Your Business | Shark Tank's Kevin O'Leary and Mark Cuban

Just as Mark & Kevin said, the key is busting your ass and getting some sales in first. Proving your business idea and model will be successful. Once you have some sales under your belt, investors will beat a path to your front door.

If this video has been helpful so far, please don't forget to subscribe and click the notification bell, it really helps with my channel, and I appreciate it.

This brings me to the next item on my list, presales. Do you have a unique product or service that your new business plans to sell? Have you thought about selling pre-orders? But how do you get those sales, especially in the beginning? This often-overlooked method is by far one of the best ways to get cash into your new business for a couple of reasons. Obviously, the first reason is that it gets cash in the door without borrowing it from someone else; there are no interest or lender fees.

The second reason, it creates buzz around your product. This will bring you more sales and draw the attention of venture capitalists and other investors on much more favorable terms for you. Think of it this way, if you had already pre-sold a thousand or multi-thousands of units of your product before it was even launched, investors know your product will sell very well when released.

Elon Musk had used this technique very well in preselling thousands of Tesla vehicles before they were released.

Obviously, Elon had the benefit of selling a unique and buzz-worthy product. What if you are just a gas station operator and want to build a kitchen in your building to provide amazing tasting breakfast sandwiches to your customers on their way to work in the morning.

Then why not pre-sell a $50 discount card that gives them 50% off their breakfast sandwich purchases for a year.

If your breakfast sandwich is $5.00 and this discount saves them $2.50 each morning, a very loyal customer coming every day would save over $900 in their first year just by pre-paying for the $50 card. Now, I am sure you are saying, but I just gave away $850; this is stupid. No, not exactly. First off, the chances of someone coming to your shop 365 days in a row for a sandwich is a bit slim; most will only come in once or twice a week. Plus, you can make the promo require they also purchase a cup of coffee and a side of hash browns at full price to get their discount. And we all know, that is where your profit is anyways.

Because your customers have this card, they will have the psychological need rooted in the back of their head, telling them to come as often as possible so they can "get their money's worth" on their $50 investment in your discount card.

The next item on the list is along the same lines as pre-sales, and this is having your customers pay for features they want. This is a model I have used in my tech business many times, and it works very well. We have a roadmap of features we know we want to add to our service with estimated timelines for completion when all customers will have these new features. Sometimes a customer would come to us and say, "Hey, I really need this feature, and I cannot wait 6-months or a year for it to be released."

The problem is, there is only so much work a programmer can put in each day, and new features take time. If we dropped everything to focus on this new feature, it would delay other features.

In those cases, we would charge that customer a fee for us to stop what we were working on and instead focus on their request accelerating the development of that feature.

The customer would get the feature they needed quicker, we had our R&D expenses covered, and our product was improved for all customers.

This idea works well in software development, but even for physical, tangible products. Maybe a customer needs a particular product from you, but it will require purchasing specialized equipment. You build the cost of the equipment into your price quote for the customer, and after that customer's job is complete, you now have additional services you can offer other customers. I have seen this work well for a friend that owns a landscaping business, and many of his expensive specialized tools were paid for this way.

To me, the key is thinking outside of the box when it comes to funding. I hear this over and over from friends that tell me, "Steven, I would love to start a business, but I don't have the money." Honestly, that is just an excuse.

When I started AutoCorner, I had nothing; in fact, I was homeless, I was recently kicked out for non-payment of rent, and all I had was some essential belongings I piled in my truck. I lived on the back porch at my girlfriend's grandmother's house.

Every penny my business partner and I made we put back into the business. Many nights of 33-cent ramen noodles at home, and during the day when out selling our service, 79-cent burritos at Taco Bell.

What other creative ideas have you tried? What has worked, what hasn't worked? Comment down below and share with us.

Don't forget to check out www.OpenFor.Business and register your business today. As you know, this is my small business awareness campaign, along with Aubrey Janik, Jamel Gibbs, Minority Mindset, Investment Joy, Rod Squad, Kenny Keller, Kristen Ottea, and Mark Moss; we will fly around the country in a helicopter landing at select small businesses nationwide. Do you want me to land the helicopter at your office or feature you on the program? Go to the website and register your business now. These spots are very limited

I am so excited to announce the support from AutoCorner, Namecheap, BestBuy, ZipRecruiter, Dun & Bradstreet, Constant Contact, and Unbanked. Without their support, this nationwide small business helicopter tour would not be possible!

view on YouTube
Follow Me On...
Steven creates video interviews with interesting people with extraordinary stories from various walks of life, sharing their successes and failures.

Full-length interviews and shorts are available on YouTube, with behind-the-scenes content and photos on Instagram and Facebook.
Keep Up to Date!
Subscribe to Steven's email list to be notified when new content is released!
🚁🚁 Helicopters 🚁🚁
Depending on logistics, I usually fly one of these helicopters while filming content.
Bell 206L4
For longer, multi-day, or multi-state trips, I usually fly a Bell 206L4 helicopter which seats two pilots in front and five passengers in the back.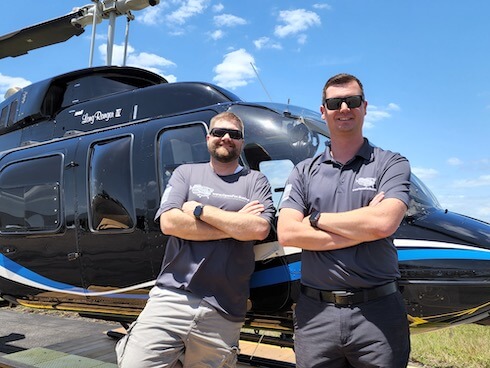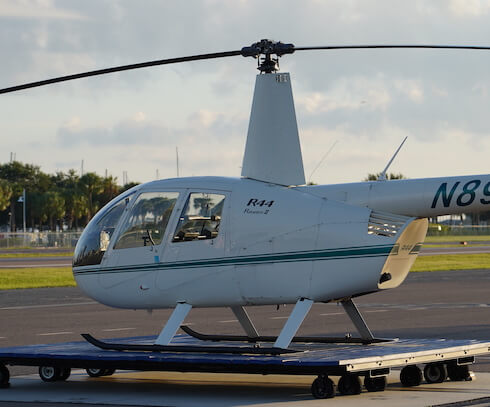 R44 Raven II
For shorter, single-day, local 'Tampa Bay Area' videos, I usually fly a smaller R44 Raven II helicopter, which seats two pilots in the front, and two passengers in the back.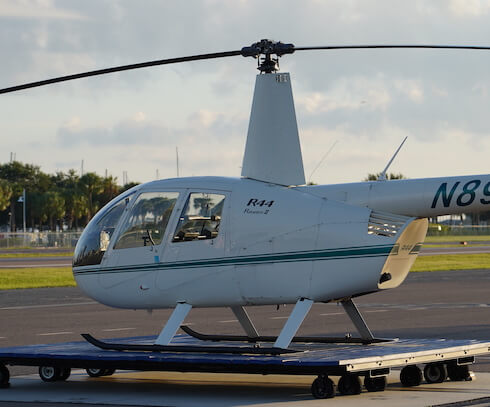 Get in touch
Have a suggestion for an interview or video?
Corporate address

The Carlson Organization, Inc.

18 2nd Street
Luray, VA 22835

Phone number

+1 (540) 742-7001
Join our community on
Discord
Join in the discussion and share your insights with the community.
Join Now it's free