Home
/
Video Blogs
/ Top Ways to Protect Your Small Business from Credit Card Chargebacks💰💰

subscribe
➡️ ➡️ ChargeSentry Wins Your Chargebacks Automatically

Credit card disputes or chargebacks cost US small businesses over $40 billion per year in lost revenue, not to mention the labor costs of processing and replying to each dispute. Recent reports show the average cost to a business per dollar in chargebacks is $2.40. That means $100 in chargebacks could cost you over $240.

First, we will cover 5 things to protect yourself from disputes. Make sure you stay to the end to find out an easy way to handle credit card chargebacks when they hit your business--all this and more in today's video.

As many of you know, I run a tech business AutoCorner, where we provide websites for used car dealerships throughout the United States and Canada. While many of our customers still prefer to mail us checks, a growing trend is using credit cards to pay their service fees with us. While accepting credit cards makes it easier for your customer to pay you, opening yourself up to frivolous chargebacks is the downside.

Before I go any further, how about a quick explanation of what disputes are. The terms chargebacks or disputes are interchangeable, and simply put, a credit card chargeback is when an individual customer questions the validity of a transaction posted to their account. Usually, this involves the person calling their bank and informing them either 1) they never authorized the transaction or 2) they want a refund because they are dissatisfied with the product or service from your business.

In my experience, most disputes we received were ones where the person said they never authorized the transaction. In most cases, this is the easiest type of dispute for the consumer to initiate, as all they must do is tell the bank, "Note, not me, I didn't do that," and the process begins.

In our case, our chargebacks usually are a case of a mistake by the credit cardholder. For example, one of the business owners paid for our services, and one of the other owners didn't realize, so they disputed the credit card transaction with their bank when they didn't recognize the charge. We usually handle this with a simple phone call to them saying, "Ummm, did you guys mean to dispute this?" They almost always apologize, call their bank, and everything is fine.

This brings me to the first tip on our list.

1 - Using a consistent company name.
If your customers know you as Johnny's Candy Shop, your merchant account should use that name to process credit cards. Even if your actual company name is JCS, Inc, make sure you spell out Johnny's Candy Shop. Usually, you are limited in the number of characters, but with some creativity, you can spell something very close to your full company name, so your customers know it was you.

If a customer does not recognize the name, they will dispute the transaction. This was a problem for us in the past as our customers knew our service as AutoCorner, which is our brand, but our company name is stockNum Systems. After a few years of this causing disputes when people didn't recognize stockNum Systems, we updated our credit card merchant to show AutoCorner; this fixed many of our disputes overnight.

2 – Keep documentation.
Look, I get it; nobody likes paperwork, but keeping accurate transaction logs is a must. Most point-of-sale systems, both in person for use in storefronts and virtual for online shopping, have built-in tools that help you keep track of customer information for you, with very little work on your end.

3 – If you are a retail establishment, keep security camera footage for at least 90 days, preferably 6-months or more, and make sure the date & time on your cameras is correct. This way, if you know a transaction was processed on July 7th at 6:25 pm, you can go to your security cameras and grab a photo of the customer walking up to your cash register at that time. Make sure you remember Daylight Savings Time.

4 – Be clear about your return policy. If you have a return policy, make sure it is clear in your store and website. Also, include it on your receipts.

5 – Use postal service tracking. If you ship physical goods to someone, make sure you utilize tracking codes from your shipping provider. This allows you to prove an item was delivered to a customer, making it very difficult for them to fraudulently claim the item never arrived.

Following those tips can help reduce the likelihood of receiving a dispute, but some [donkey] will inevitably hit your business with a chargeback.

Not only do you lose the transaction dollar amount, but your merchant provider will also typically charge you a chargeback fee that can range from $20 to $100, which is in addition to the cost of your product or service. Businesses are also on the hook for credit card processing fees between 1% and 4%. The costs add up quickly, making it tough for small business owners who already face thin profit margins. Remember a few minutes ago when I said for every $1 disputed, you lose $2.40.

In the end, you are out the cost of the product you sold, the credit card processing fees, the chargeback fee, and the cost of your time to handle the dispute.

Over the years, we handled all of the disputes in-house. One of my staff members would research the transaction, dig up the credit card receipt, IP address of the person making the transaction, and other details, and would answer the dispute. This usually took a few hours to get everything together, and in the end, we lost almost every dispute, but I didn't have many other options.

After getting burned and losing thousands of dollars to disputes, I researched services to help with my disputes. Back then, the problem was that there really weren't any services designed for small businesses. They were expensive, with multi-year contracts, and required a lot of work on my end to set them up. Sure, if you are Home Depot or Walmart, they are great, but if you are a small business, paying tens of thousands per month for a service to help with disputes is just not practice.

At the time, I couldn't find any service, so I gave up, and for years I just figured the lost money from disputes was a cost of doing business, and I never checked google to see if any new services were available.

Recently a rash of disputes came into my business, and I thought, enough is enough; I need to learn how to handle these disputes better to win more of them. During my research, I stumbled across ChargeSentry.

Their website claimed they could handle all of my disputes for a flat starting at $99 per month. Honestly, I kind of thought it was too good to be true, because come on, between you and me, how can they do a better job of responding to the disputes than me? I know my business, I know my customers, what could they possibly do for me?

But I was wrong.

I discussed some of my previous disputes with them, and they showed me where I was making mistakes when I answered the questions my merchant processor needed. I was including way too much information that didn't help my case and omitting the data that I needed to win. With ChargeSentry, they have the experience in putting together short, concise, yet still highly impactful chargeback responses on your behalf.

I was still a bit skeptical, and the last thing I wanted was to get stuck in a long, expensive contract, but since they have no long-term contracts and a money-back guarantee, I figured, what the heck, let me give a month and try them out.

I really wish I had known about them years ago; I would have saved tens of thousands of dollars in losses. I'll put a link to them down in the show notes; check them out; I think you'll like them.
https://www.chargesentry.com/



Don't forget to check out www.OpenFor.Business and register your business today. As you know, this is my small business awareness campaign, along with Aubrey Janik, Jamel Gibbs, Minority Mindset, Investment Joy, Rod Squad, Kenny Keller, Kristen Ottea, and Mark Moss; we will fly around the country in a helicopter landing at select small businesses nationwide. Do you want me to land the helicopter at your office or feature you on the program? Go to the website and register your business now. These spots are very limited

I am so excited to announce the support from AutoCorner, Namecheap, BestBuy, ZipRecruiter, Dun & Bradstreet, Constant Contact, and Unbanked. Without their support, this nationwide small business helicopter tour would not be possible!



view on YouTube
Follow Me On...
Steven creates video interviews with interesting people with extraordinary stories from various walks of life, sharing their successes and failures.

Full-length interviews and shorts are available on YouTube, with behind-the-scenes content and photos on Instagram and Facebook.
Keep Up to Date!
Subscribe to Steven's email list to be notified when new content is released!
🚁🚁 Helicopters 🚁🚁
Depending on logistics, I usually fly one of these helicopters while filming content.
Bell 206L4
For longer, multi-day, or multi-state trips, I usually fly a Bell 206L4 helicopter which seats two pilots in front and five passengers in the back.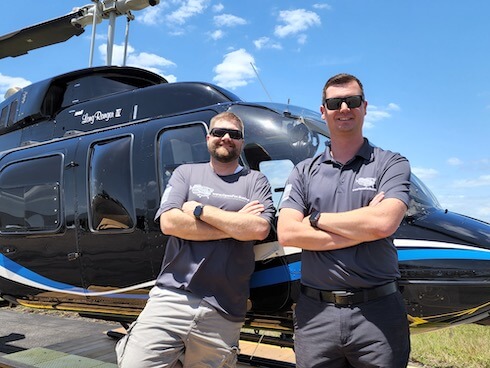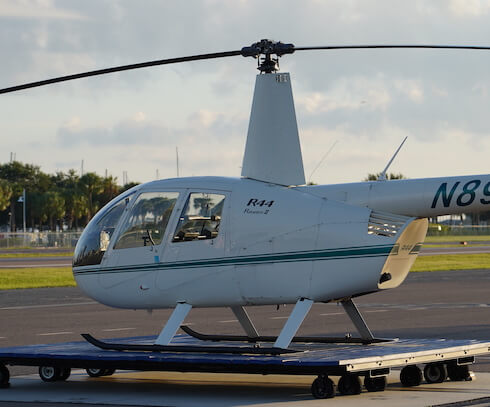 R44 Raven II
For shorter, single-day, local 'Tampa Bay Area' videos, I usually fly a smaller R44 Raven II helicopter, which seats two pilots in the front, and two passengers in the back.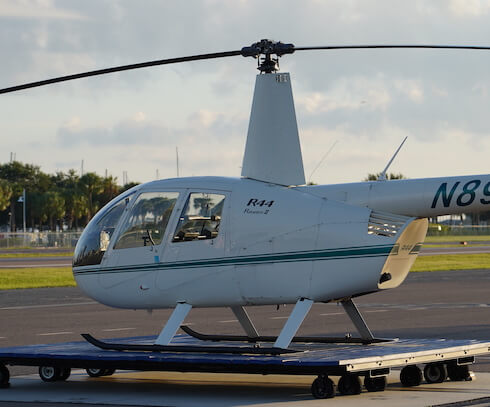 Get in touch
Have a suggestion for an interview or video?
Corporate address

The Carlson Organization, Inc.

18 2nd Street
Luray, VA 22835

Phone number

+1 (540) 742-7001
Join our community on
Discord
Join in the discussion and share your insights with the community.
Join Now it's free