subscribe
The SBA EIDL program sucks and most of you got the big middle finger from the feds, so how about some BETTER alternatives? You've asked, and today I am delivering, a massive list of some of the best grants for small businesses. Everything from general business grants to ones specific to veterans, women, or minorities—all this and more in today's video.
https://www.nav.com/resource/small-business-grants/

https://www.legalzoom.com/articles/24-small-business-grants-to-apply-for-in-2021-a-full-guide

https://www.fundera.com/blog/small-business-grants-for-veterans
This is video three of a four-part series showing the best small business grant resources available today. In video one, we covered grants for all types of small businesses. Video two was for the ladies in the audience, and today, we will cover grants specifically for veteran-owned businesses. Then in the upcoming fourth will cover grants for minority-owned businesses.

Now, let's get started.

Sorry for the delay in releasing this video; the plan was to make it last week. I have been in class working on renewing my paramedic certification for another two years.


The StreetShares Foundation Veteran Business Grant
https://streetsharesfoundation.org/the-veteran-small-business-award
This grant is open to veterans, active-duty members, or the spouse of a military veteran or active-duty member. Applicants can receive up to $15,000 and will be judged based on their business idea, their expected use of funds, product-market fit, team, and the influence the business will have on the veteran or military community.


VA VR&E Business Ownership Track
https://www.va.gov/careers-employment/vocational-rehabilitation/programs/self-employment/ If you're a veteran with a disability and an entrepreneurial passion, this program helps coordinate services to build get your business started by providing resources to help you analyze your business concept, develop a sound business plan, and provides you the resources to open your business.


Boots to Business Training Program
https://sbavets.force.com/s/
Although not a grant per se, this program offers entrepreneurial training to veterans to launch their business. The two-day training that connects veterans with experts is broken down into two parts: Introduction to Entrepreneurship and B2B Revenue Readiness. In the former, participants acquire the essential skills, knowledge, and resources to launch a successful business. Crucially, this course includes learning about how to access startup capital and contracting opportunities. Introduction to Entrepreneurship is typically offered in person, but due to COVID-19, the SBA is transitioning to virtual courses. Once they've completed this first course, participants can choose to continue their studies with B2B Revenue Readiness, a six-week online course offered through a partnership with Mississippi State University. This program "prepares participants to take their business idea from concept to an executable business model in a relatively short time frame." Like Introduction to Entrepreneurship, this course is free and available to all veterans, plus military spouses.


Hivers and Strivers
https://www.hiversandstrivers.com/
This angel investment group provides startup funding to companies founded by graduates of the U.S. Military Academies. Hivers and Strivers generally invests between $250,000 and $1 million in a single funding round. They invested in Black Rifle Coffee, among other notable veteran-owned brands.


Service-Disabled Veteran-Owned Small Business Program
https://www.sba.gov/federal-contracting/contracting-assistance-programs/service-disabled-veteran-owned-small-businesses-program
I know the SBA isn't exactly on everyone's Christmas card list this year, but putting that aside, they do offer several great grants and low-interest loans to vets. Every year, the federal government aims to set aside 3% of its contracting budget for service-disabled veteran-owned small businesses. As with any federal government program, there are a lot of rules associated, but thankfully these aren't too bad. To qualify for this program, your business has to meet the following standards:
Adhere to the SBA's definition of a small business
Be at least 51% owned and controlled by one or more service-disabled veterans
Have one or more service-disabled veterans manage day-to-day operations and also make long-term decisions
Eligible veterans must have a service-connected disability
If your business meets these requirements, you can represent your business as a service-disabled veteran-owned business on SAM.gov, the government's online system through which businesses can apply for federal contracts.


Warrior Rising Small Business Grants
https://www.warriorrising.org/
They are a nonprofit organization dedicated to supporting aspiring veteran business owners by providing workshops, training, and grants to cover startup business expenses. To become a member of Warrior Rising, you will need to partake in a phone interview and speak to staff members about your background. You will then need to complete a virtual course. Once completed, Warrior Rising will then offer mentorship and assistance with grant funding opportunities.


Veteran Readiness and Employment
https://www.benefits.va.gov/vocrehab/
Through this unique program, service-disabled veterans unable to work in a traditional employment environment are eligible to receive training and grant funding to start their businesses or help with job training. Interested veterans will need to fill out an application. Once their applications are submitted, they will be reviewed to determine if they meet the program's eligibility requirements. If they meet the requirements, they will be able to participate in an orientation session and learn more about the program.


Office of Small and Disadvantaged Business Utilization
https://www.va.gov/OSDBU/entrepreneur/index.asp
The OSDBU is managed by the U.S. Department of Veterans Affairs and is dedicated mainly to helping vets seek federal contracting opportunities. That said, the OSDBU website is a one-stop resource shop for veteran entrepreneurs seeking help with virtually every aspect of starting, running, and financing their businesses. A great tool here is the Veteran Entrepreneur Portal, which aggregates resources to help entrepreneurs find and apply for government contracts, locate franchising opportunities, and access training and employment programs for vets, among many other resources.


Veterans Business Outreach Centers
https://www.sba.gov/business-guide/grow-your-business/veteran-owned-businesses
Overseen by the SBA's Office of Veterans Business Development, Veterans Business Outreach Centers (VBOC) provide veterans and veteran spouses the training and tools they need to launch their businesses—think business plan workshops, mentorship programs, and management training. Since they're under the SBA's jurisdiction, VBOCs can also help you identify potential SBA loan opportunities, provide loan referrals, and help you package loan applications. There are 22 VBOC centers located across the country, but if you can't find a location near you, you can always contact an office and find out whether they can provide remote assistance.

Don't forget to check out www.OpenFor.Business and register your business today. As you know, this is my small business awareness campaign, along with guest appearances from Aubrey Janik, Jamel Gibbs, Minority Mindset, Investment Joy, Rod Squad, Kenny Keller, Mark Moss, Kristen Ottea, and Air Force Maj C.W. Lemoine, better known as "Mover." Do you want me to land the helicopter at your office or feature you on the program? Go to the website and register your business now. These spots are very limited!

I am so excited to announce the support from AutoCorner, Namecheap, BestBuy, ZipRecruiter, Dun & Bradstreet, Constant Contact, and Unbanked. Without their support, this nationwide small business helicopter tour would not be possible!

view on YouTube
Follow Me On...
Steven creates video interviews with interesting people with extraordinary stories from various walks of life, sharing their successes and failures.

Full-length interviews and shorts are available on YouTube, with behind-the-scenes content and photos on Instagram and Facebook.
Keep Up to Date!
Subscribe to Steven's email list to be notified when new content is released!
🚁🚁 Helicopters 🚁🚁
Depending on logistics, I usually fly one of these helicopters while filming content.
Bell 206L4
For longer, multi-day, or multi-state trips, I usually fly a Bell 206L4 helicopter which seats two pilots in front and five passengers in the back.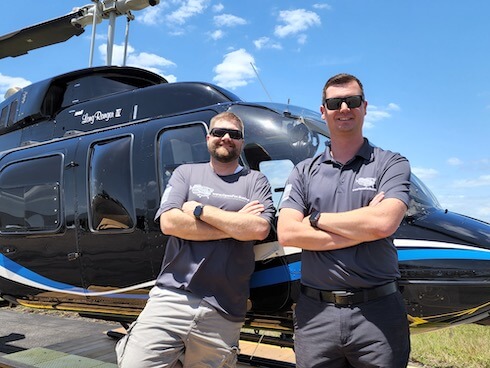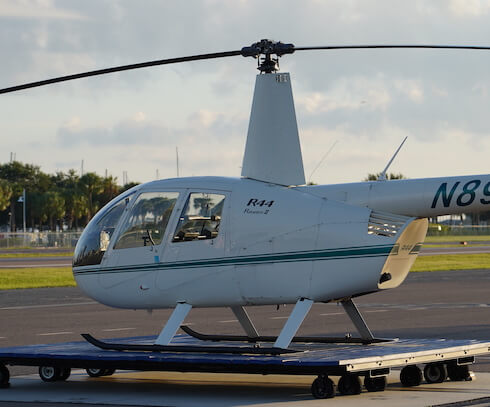 R44 Raven II
For shorter, single-day, local 'Tampa Bay Area' videos, I usually fly a smaller R44 Raven II helicopter, which seats two pilots in the front, and two passengers in the back.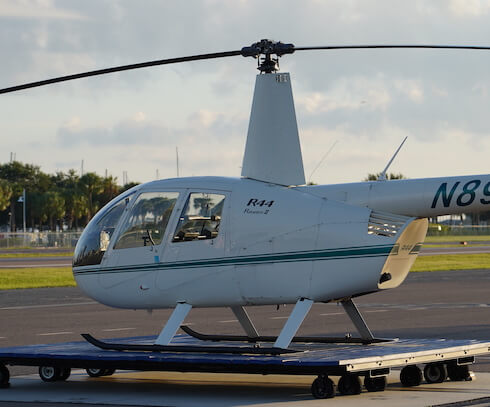 Get in touch
Have a suggestion for an interview or video?
Corporate address

The Carlson Organization, Inc.

18 2nd Street
Luray, VA 22835

Phone number

+1 (540) 742-7001
Join our community on
Discord
Join in the discussion and share your insights with the community.
Join Now it's free