subscribe
Your holiday shopping experience is likely to look different than in years past. Between issues with supply chains, the rising cost of goods, staffing shortages, and problems filling shelves with merchandise, retailers are gearing up for a difficult few months ahead. Even with these challenges, Americans still want to have gifts for their loved ones.

Finding the perfect holiday gift while supporting local, American-owned businesses what is not to love? Here are is my top list of products by American-own businesses—all this and more in today's video.

First off, we are going to start off with two products that really are not "holiday gifts" per se, but they are local American businesses that make great products that you can enjoy year-round. The first is Black Rifle Coffee.

Coffee Press
Black Rifle Coffee "Just Black" Ground
Black Rifle Espresso w/Cream

Black Rifle Company, founded by a retired US Army Special Forces operator and former CIA contractor, this coffee kicks a serious punch. They are unapologetic pro-America, pro-Veterans, and pro-Amazing F***king coffee.

Just about every video I record for this channel, just outside the frame, is my coffee. I probably drink more than I should, but hey, even recent medical studies show coffee might be healthy for you. I do not know, but I know, a day without my Black Rifle Coffee is a pretty bad day.

Because I am, well, a bit lazy, I prefer the premade cans and keep them stocked in my drink fridge next to my Olipop. This way, I can grab a can, pop it up, and enjoy it whenever I want. Of course, if you, or maybe, the person you are purchasing gifts for, prefer to make a fresh cup of joe, you can grab their pre-ground or whole beans. I found a great USA-made coffee press, and I will link to it, and to Black Rifle Coffee in the show notes below.

Now, rounding off our beverages lets go to the next time, then into the holiday shopping list.

Olipop. We all know sugar is a silent killer and a significant contributing factor to the obesity epidemic in the US. I packed on a lot of weight from drinking sugary sodas, and at my peak, I was almost 300 lbs. Now, by limiting my sugar intake and daily exercise, I am down to about 235. I still have more to lose, but 60 lbs. in a year isn't a bad start. But, honestly, between you and me, I still miss sodas and slip in an occasional treat here and there.

OliPop Promo Code: SODALOVE

Then I stumbled across Olipop, and well, to be frank when I read the ingredients, I thought there was zero chance I would like it. I'm a pretty simple person when it comes to food, and Marshmallow Root, Chicory Root, Calendula – 'cal, cale, caledu, cal whatever,' Slippery Elm Bark, Kudzu Root, and Jerusalem Artichoke – well, none of that sounds good. But I wanted to give it a try, so I ordered a case and, wow. I am shocked; I actually like it.

They are non-GMO, vegan, gluten-free, Paleo, and Keto-friendly if you care about any of that. All I care about is that there are no artificial sweeteners, colors, flavors, preservatives, or ingredients and less than 50 calories in each can.

OLIPOP is headquartered in Oakland, CA, and all of its beverages are proudly made in the USA. Pick up a case of these; you will not regret it. A link is in the show notes below.

MyMedic.com
MyFak Large Pro
MyMedic Hiker Medic Kit

As you guys know, I am a paramedic, so being prepared for emergencies is a big priority for me. In the trunk of my car, I always have a fully stocked EMS jump bag ready for any situation I find myself in, and trust me with the drivers in Florida; I put it to use regularly.

When planning my upcoming #OpenForBusiness helicopter tour, I knew I wanted some first aid equipment in our helicopter. The problem was my main EMS bag is way too bulky to bring with me in the limited storage space of the helicopter.

So, I reached out to MyMedic and asked what they recommended. Their very helpful staff steered me to their MyFAK line of personal First Aid Kits; it is the perfect size and has everything our crew needs to survive if we need to land the helicopter unexpectantly in a remote area as we await rescue.

The best part is you do not need to be a paramedic or an EMT to use this bag. Everything is laid out and labeled so that anyone can easily find what they need during an emergency.

Toss the MyFAK in your trunk and be ready for any emergency wherever you are, or grab their Med Packs Hiker Medic as the perfect stocking stuffer for the hiker in your family.

MyMedic is a proud American company located in Salt Lake City, Utah.

Links are in the show notes, and enjoy 25% off everything store-wide!

I love their products so much; I think I will replace the EMS bag I keep in my car with their Medic Pro line, which is bigger than the MyFAK and has EVERYTHING I could ever want in a first response bag. Should I review that product as well on this channel? Comment down below if you would like to see that!

Let's put this under an honorable mention because I haven't tried it out yet myself, but you better believe I ordered one and cannot wait for it to come in. Ok, so what am I talking about? During the research for this video, I stumbled across the KettlePizza Basic 22.5 Inch pizza grill kit, and, of course, it is 100% made in America.

With this kit, you can transform your charcoal grill into a backyard pizza-making powerhouse.

I have a link to this kit on Amazon in the show notes below; check it out and let me know what you think. I cannot wait to make an excellent pizza pie on this.

KitchenAid Standmixer
KitchenAid Pro Standmixer


In a day and age when many US corporations outsourced their productions to China, KitchenAid still makes their stand mixers right here in the good ol' USA. Of course, they are obviously, not a small business, but any company that hires Americans to produce their products has my support. Sadly, KitchenAid no longer makes all of their products in the US; with many components shipped in from third-party suppliers internationally, they still assemble the products here before final delivery to a store near you.

These mixers basically last forever. My mom still uses one she has had for well over 30-years, and the one I have has worked faithfully for almost ten years without a hitch. I have the smaller 3.5 qt size; if I were to upgrade, I would love the 6qt, so hint, hint, KitchenAid; if you want to be a sponsor, send me one to review.

These made the perfect holiday gift and support a company that proudly provides thousands of jobs in their American factories.

This wraps up my list of American products that make the perfect gift for your loved one. Remember, the key is, shop with local, American-owned brands. Not only are you purchasing a better-quality product, but you are also supporting entrepreneurs in this country to thrive. Thanks

Don't forget to check out www.OpenFor.Business and register your business today. As you know, this is my small business awareness campaign, along with Aubrey Janik, Jamel Gibbs, Minority Mindset, Investment Joy, Rod Squad, Kenny Keller, Kristen Ottea, and Mark Moss; we will fly around the country in a helicopter landing at select small businesses nationwide. Do you want me to land the helicopter at your office or feature you on the program? Go to the website and register your business now. These spots are very limited

I am so excited to announce the support from AutoCorner, Namecheap, BestBuy, ZipRecruiter, Dun & Bradstreet, Constant Contact, and Unbanked. Without their support, this nationwide small business helicopter tour would not be possible!

view on YouTube
Follow Me On...
Steven creates video interviews with interesting people with extraordinary stories from various walks of life, sharing their successes and failures.

Full-length interviews and shorts are available on YouTube, with behind-the-scenes content and photos on Instagram and Facebook.
Keep Up to Date!
Subscribe to Steven's email list to be notified when new content is released!
🚁🚁 Helicopters 🚁🚁
Depending on logistics, I usually fly one of these helicopters while filming content.
Bell 206L4
For longer, multi-day, or multi-state trips, I usually fly a Bell 206L4 helicopter which seats two pilots in front and five passengers in the back.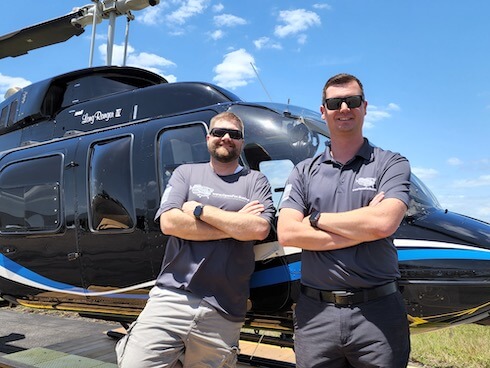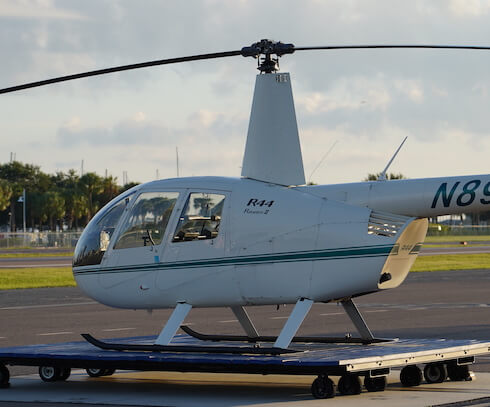 R44 Raven II
For shorter, single-day, local 'Tampa Bay Area' videos, I usually fly a smaller R44 Raven II helicopter, which seats two pilots in the front, and two passengers in the back.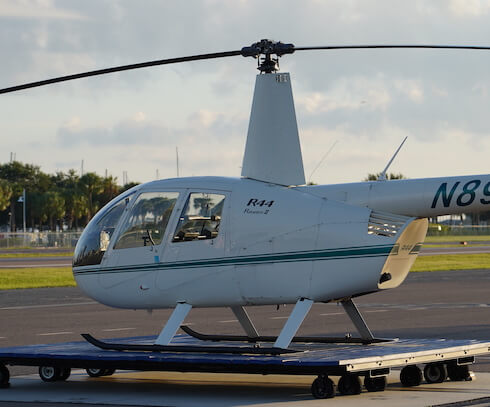 Get in touch
Have a suggestion for an interview or video?
Corporate address

The Carlson Organization, Inc.

18 2nd Street
Luray, VA 22835

Phone number

+1 (540) 742-7001
Join our community on
Discord
Join in the discussion and share your insights with the community.
Join Now it's free