subscribe
We all know the past 18-months or so has been a bit of a dumpster fire for many small businesses, but there are still opportunities out there if you know where to look. Today I wanted to share a passive income to bring an extra $15 - $20k or more per month in--all this and more in today's video.

Because I have a lot of customers that are used car dealerships, I'll gear this video around them, but technically, any business could follow this same path and rake in the extra cash. Stay to the very end of the video for a breakdown on what makes & models make the most money and a few pitfalls you must consider as a car dealer before renting on Turo.

The passive income stream I am talking about is Turo car rentals. Many individuals make $100k per year with just a few cars they rent out as a part-time side gig. A fellow YouTuber Aubrey Janik started back in 2018 renting her personal 2011 Jeep Wrangler and 2007 Toyota Yaris, pocketing an extra $1,500 per month.

It was only a part-time thing for her initially, but it wasn't long before she turned it into a 6-figure income, and that was when she decided to turn it into a full-time business, and that is when she really started to make money.

As a used car dealership, you have a massive leg up on her and the other Turo hosts. These advantages will give you an edge in the market, but before I cover those, let me give you a quick background on what exactly Turo is, so you have a better idea about what I am talking about.

If you are not familiar with Turo or Peer-to-Peer Car Sharing, let me explain. In short, car sharing allows you to rent out a vehicle you own and make money doing it while providing insurance and security if something goes wrong.

We all know traditional rental car companies like Hertz, Avis, or Enterprise. Peer-to-peer car sharing is a business model along this same line. Only, you rent out your personal vehicle (or a fleet of vehicles owned by your dealership) on an app. This alternative to a traditional rental car company gives customers other options outside of the more conventional avenues like Avis, Enterprise, or Hertz.

For multiple reasons, the big national rental car companies have been slashing their fleets during the pandemic. There were numerous reasons, but travel is picking up again, and rental vehicle supply is tight. That's an excellent opportunity for Turo and other similar ridesharing/rental apps, which have been growing rapidly as more car owners use its app to rent out their vehicles.

Traditional car rental companies recorded massive drops in rental revenue thanks to the steep plunge in travel last year. Not so for Turo, whose revenue rose 7% as more car owners signed up to rent their privately owned vehicles sitting unused in the driveway because of job loss or working from home.

Now that is great and all, but so far, I have only discussed how renting your personal vehicle makes money, but you are a car dealership business. What can we do to leverage your business?

First, look around your lot and take a mental note of the vehicles that have been on the lot a little longer than you wish. Think about it; you likely have a few dozen cars on your lot right now; even the smallest lots still have a few cars sitting around collecting dust. They are good, reliable vehicles, but they are not selling for whatever reason.

Right now, they are not making you any money sitting on your lot; instead, why not allocate a few of them to a Turo rental fleet?

As an individual renting out a vehicle, there are some headaches to getting started, but you already have these covered as a dealership. The first is a parking lot to put your fleet; think about it; as an individual, you do not want renters coming to your house to pick up a car. So, most Turo hosts rent parking spaces from local businesses, but you already have a parking lot that is easily accessible for your customers.

The next headache individuals have cleaning and refueling the vehicles after each rental. But you already have someone cleaning and detailing your cars for sale. Even if a local high school kid washes the vehicles for you, or you have a full-time employee, this is something you do not need to worry about. While simple, it is still a big leg up over your competition.

The most significant advantage you have as a car dealer, you know where to find great used vehicles at good prices. You can stock your rental fleet, just like you do your car sales inventory.

Turo's website has a helpful calculator that can give you an idea of what type of revenue you could see depending on the make & model of the vehicle and your location. For example, a 2017 Tesla Model S, rented for 15 days per month, could earn approximately $1,591 per month, or about $104 per day rented. This vehicle, at a maximum, could net you $37,960 per year if you rent it every day of the year. Obviously, this is on the extremely high end for a single vehicle, but it gives you an idea.

Aubrey gives a great breakdown of a few of the vehicles she rents and why they make her money.

If you are serious about renting vehicles on Turo, Aubrey and her fiancé HP have many videos that are a must-see; go check out their channels (linked below) and make sure you subscribe. While you are there, make sure you tell them you tell them you heard about their channel here.

Aubrey will also be a guest on the #OpenForBusiness US Small business helicopter tour; she will fly with us for about 2-hours from just outside of Dallas to our next stop in Hot Springs, Arkansas.

In summary, as a car dealer, you have a massive leg up over individuals, but there are a few possible things you need to consider.

1- If you are floor-planning your inventory, you may not be able to rent those vehicles, and even if you are, the floor plan costs may exceed your rental income.
2- Your liability insurance may not allow you to rent; check with your insurance broker. Turo does provide insurance as part of their service but still double-check with your broker to make sure you will not have any issues.
3- Turo requires the vehicle to be registered before renting, so you cannot float a registration from the auction until it is sold. You will need to title the vehicle.

Those are just a few of the things you should consider as a car dealership, but overall, this should have a very nice impact on your business. I know of many small dealerships that currently have 1 or 2 vehicles on their lot they rent out and make good cash from it; now you can too.




Don't forget to check out www.OpenFor.Business and register your business today. As you know, this is my small business awareness campaign, along with Aubrey Janik, Jamel Gibbs, Minority Mindset, Investment Joy, Rod Squad, Kenny Keller, Kristen Ottea, and Mark Moss; we will fly around the country in a helicopter landing at select small businesses nationwide. Do you want me to land the helicopter at your office or feature you on the program? Go to the website and register your business now. These spots are very limited

I am so excited to announce the support from AutoCorner, Namecheap, BestBuy, ZipRecruiter, Dun & Bradstreet, Constant Contact, and Unbanked. Without their support, this nationwide small business helicopter tour would not be possible!

view on YouTube
Follow Me On...
Steven creates video interviews with interesting people with extraordinary stories from various walks of life, sharing their successes and failures.

Full-length interviews and shorts are available on YouTube, with behind-the-scenes content and photos on Instagram and Facebook.
Keep Up to Date!
Subscribe to Steven's email list to be notified when new content is released!
🚁🚁 Helicopters 🚁🚁
Depending on logistics, I usually fly one of these helicopters while filming content.
Bell 206L4
For longer, multi-day, or multi-state trips, I usually fly a Bell 206L4 helicopter which seats two pilots in front and five passengers in the back.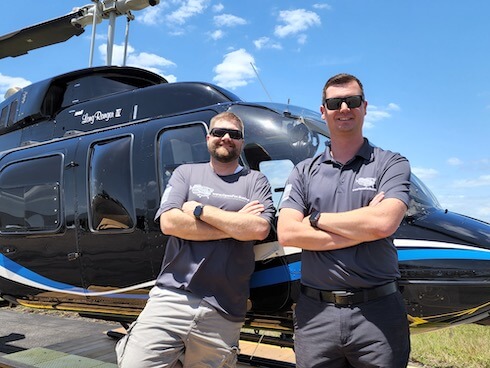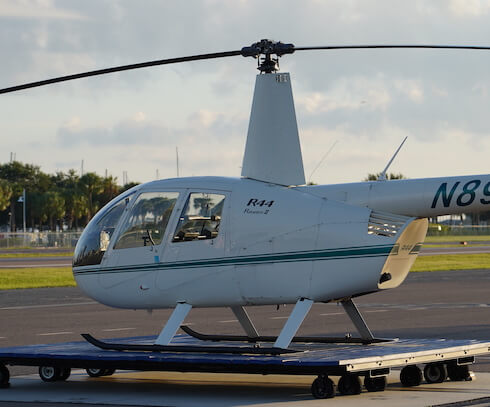 R44 Raven II
For shorter, single-day, local 'Tampa Bay Area' videos, I usually fly a smaller R44 Raven II helicopter, which seats two pilots in the front, and two passengers in the back.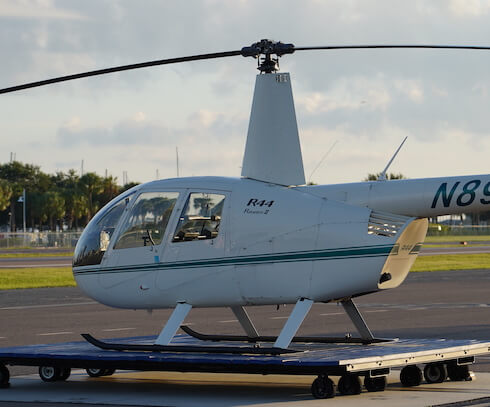 Get in touch
Have a suggestion for an interview or video?
Corporate address

The Carlson Organization, Inc.

18 2nd Street
Luray, VA 22835

Phone number

+1 (540) 742-7001
Join our community on
Discord
Join in the discussion and share your insights with the community.
Join Now it's free